Electronic Components, Parts and Their Function
Basic Electronic Components and Their Function – Active & Passive Electronic Components and their Function.
Electronic Components Function Depends on Type and need of the Circuit. These Electronic components are basic electronic parts packaged in a discrete form with two or more connecting leads or metallic pads.
Electronic Components are intended to be connected together, usually by soldering to a Printed Circuit Board (PCB), to create an electronic circuit with a particular function (for example an amplifier, radio receiver, oscillator, wireless). Some of the Main Electronic Components are: Resistor, Capacitor, Transistor, Diode, Operational Amplifier, Resistor Array, Logic Gate etc.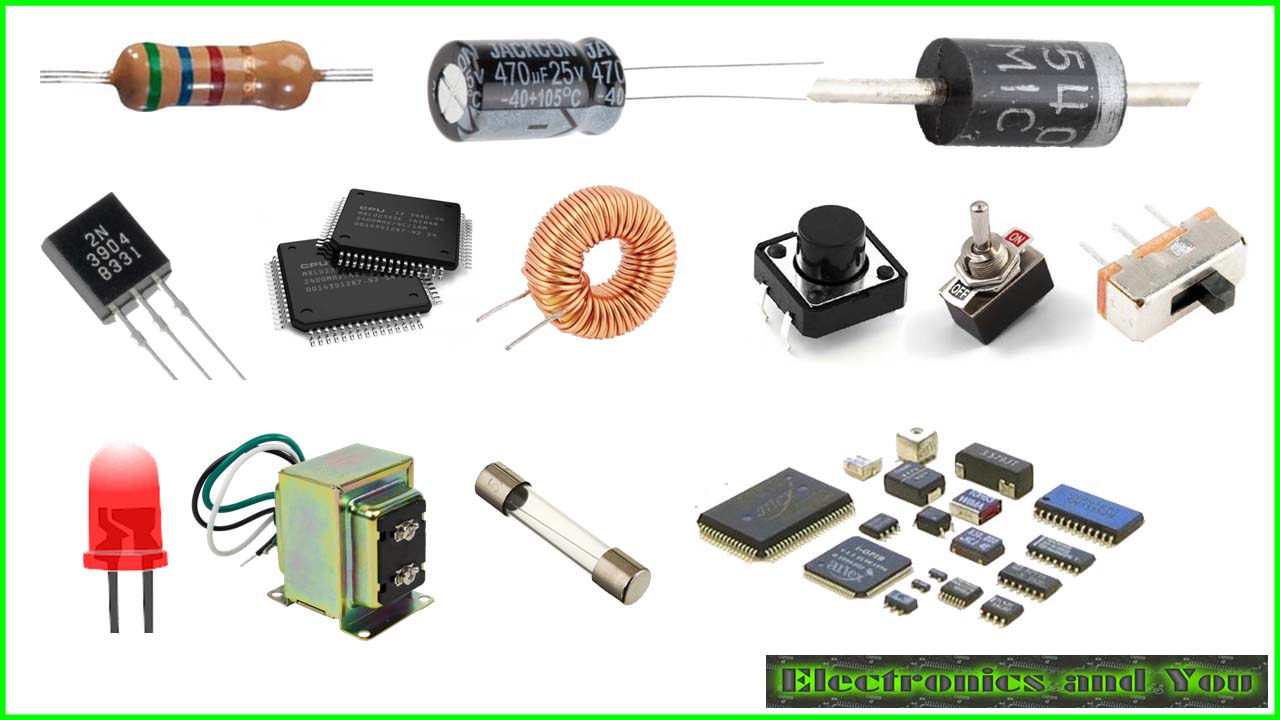 Types of Electronic Components
Electronic Components are of 2 types: Active and Passive Electronic Components.
Passive Electronic Components
Passive Electronic Components are those that do not have gain or directionality. They are also called Electrical elements or electrical components. e.g. Resistors, Capacitors, Diodes, Inductors.
Active Electronic Components
Active Electronic Components are those that have gain or directionality. e.g. Transistors, Integrated Circuits (IC), Logic Gates.
Electronic Components and Their Function
Capacitors: Function of this Basic Electronic Components is to store electrical charge in an electrical field.
Diodes: Components that conduct electricity in only one direction.
Integrated Circuits or ICs: A microelectronic computer electronic circuit incorporated into a chip or semiconductor; a whole system rather than a single component.
Magnetic or Inductive Components: These are Electrical components that use magnetism.
Network Components: Components that use more than 1 type of Passive Component.
Piezoelectric devices, crystals, resonators: Passive components that use piezoelectric. effect.
Resistors: Components used to resist current.
Semiconductors: Electronic control components with no moving parts.
Switches: Components that may be made to either conduct (closed) or not (open).
Terminals and Connectors: Components to make electrical connection.
Transistors: A semiconductor device capable of amplification.
Electronic Components Abbreviations
Here is a list of Electronic Component name abbreviations widely used in the electronics industry:
| | | |
| --- | --- | --- |
| | | |
| | | |
| | | |
| | JFET: Junction Gate Field-Effect Transistor | |
| LCD: Liquid Crystal Display | LDR: Light Dependent Resistor | LED: Light Emitting Diode |
| | | |
| | | OP: Operational Amplifier |
| | | |
| | | |
| FET: Field Effect Transistor | MOSFET: Metal Oxide Semiconductor Field Effect Transistor | TFT: Thin Film Transistor (Display) |
| VLSI: Very Large Scale Integration | DSP: Digital Signal Processor | |
| | | |
| | | |
| | VFD: Vacuum Fluorescent Display | |
| X: Crystal, Ceramic Resonator | | |
| | | |
Circuit Symbols of Electronic Components
Electronic Parts Manufacturers, Suppliers and Exporters
1. Allied Electronics
Allied Electronics are Manufacturers and suppliers of all Actives and Passive Electronic Components.
2. Integrated Circuit
Integrated Circuit are Distributor for Obsolete, Hard to Find, discontinued Integrated Circuits and Semiconductors. Providing an online parts search component database.
3. NIC Components Corporation
NIC is Manufacturers and Suppliers of – Multi-Layer Ceramic Chip Capacitors, Chip Aluminum Electrolytic Capacitors, Chip Resistors/Resistor Networks, SMT Thermistors /Inductors / Varistors, Tantalum Chip Capacitors, Metallized Polyester Film Capacitor Chips, Leaded Miniature Electrolytic / Tantalum Capacitors, Ferrite Beads & Rectifier Diodes
4. RCD Components
RCD are Manufacturers and Suppliers of Surface Mount Devices (SMD), Chip Resistors, SIP-Networks & Active/Passive-Delay Lines, Resistor Network in Surface Mount, SIP/DIP packages, Wire-Wound Resistors, Resistance Standards, Carbon-Film, Metal Film & Metal Oxide Resistors, Special Purpose High Precision Resistors, Inductive Products/ Delay Lines, Surface Mount Ceramic Chip Capacitors, Surface Mount Tantalum Chip Capacitors
5. RARA Electronics Corporation
RARA is Manufacturers and Suppliers of – Wire Wound Resistors, Power Film Resistors, RF Resistors, Current Sensing Resistors, Precision Resistors, High Voltage Resistors
6. MegaPhase LLC
MegaPhase are Manufacturers and Suppliers of – TM Series Cables, VN Series Cables, Series 1 & 2 Cables, Series 3 & 5 Cables, Series 7 Cables, Jump Shot Coaxial Jumper Cables, 75-Ohm Site Line Test Cables, CM Series Test Cable, SF Series Test Cables, Site Line Field & Production Test Cable: SL Series, TM Series Bench Test Cables, Semi-Rigid Cable Assemblies, Micro-Miniature Semi-Rigid Cable Assemblies
7. TDK Corporation
TDK is manufactures wide range of electronic components – Capacitors, Inductors (Coils), EMC and RF Components, Current Protection Devices, Sensors, , Ceramic Switching, Piezo Components, Buzzers and Microphones, Transformers, Anechoic Chambers and Radio Wave Absorbers, Power Supplies, Flash Storage, Wireless Power Transfer, Lithium Polymer Batteries, SMD Solid-State Batteries.
8. Micron Technology
Micron Technology is well known for its computer memory and computer data storage products. Its consumer products are marketed under the brands Crucial and Ballistix.
9. Broadcom Inc
Broadcom develops and manufacturers wide range of semiconductor- Wireless Embedded Solutions and RF Components, Storage Adapters, Controllers, and ICs, Fibre Channel Networking, Broadband Products, Embedded and Networking Processors, Ethernet Connectivity, Switching, and PHYs, PCIe Switches and Bridges, Fiber Optic Modules and Components, LEDs and Displays, Sensors.
10. Texas Instruments(TI)
TI is world leader in digital signal processing and analog technologies. Their innovative analog and DSP technologies, along with other semiconductor products, help customers meet real world signal processing requirements.
Related Posts: